STONEHENGE: absolute geography location lens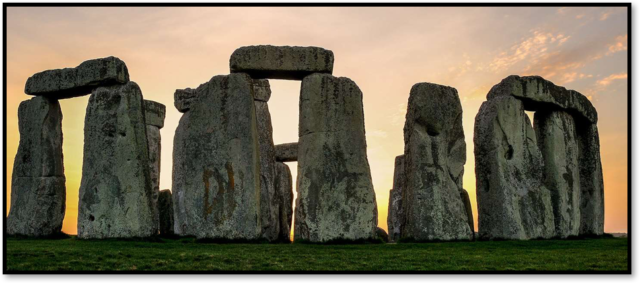 Source: www.english-heritage.org.uk
STONEHENGE always appear at the top list among the other must-see sites for tourists visiting UK such as the iconic Big Ben Time Tower, London Eye riverside wheel, and Tower of London's Medieval age. Moreover, United Nation Education, Scientific and Cultural Organization (UNESCO) add STONEHENGE on their list of World Heritage Sites in 1986. Additionally, UK authorities own, govern and manage STONEHENGE site as British cultural icon to protect its historic monument including the surrounding land through their official body such as English Heritage and National Trust. This article borrows the idea from the British Broadcasting Corporation (BBC) travel that stimulate the thinking for more STONEHENGE as the UK's top attractions site and the intriguing landscape of prehistoric monuments with remarkable stone pillars put in place, particularly from the absolute geographic location lenses.
Unlike the heritage tourism description by The National Trust for Historic Preservation in the United States, which inform the visitor of STONEHENGE as "travelling to experience the places, artefacts and activities that authentically represent the stories and people of the past,….that can include cultural, historic and natural resources". Tourism geographers attempt to tell STONEHENGE site's visitor through absolute geographic location of the place that provide physical characteristic such as landform, climates or resources; and mathematical location of STONEHENGE and its attributes i.e. numbers of people living, the ethnic character as well as the economic feature.
Derived from secondary data exploration, STONEHENGE absolute location tells visitors accurate point of the destination on the earth surface and its situational attributes. Secondary data discusses the related information that was collected by other party for different research purposes that might be collected by government departments, organisational records and/ or data that was originally sources for social resolves.
While lots of available offline and online sources provide those particular data pertaining STONEHENGE site, the information from Wikipedia sources contain sufficient data to explain STONEHENGE absolute location as follow. STONEHENGE's site locates on the suburban area of south west England called Wiltshire that categorized as a small county, which comprise of a down landscape and valleys for about 3.5K kilometres square in total area. The Wiltshire space's is almost as big as Lombok island in Indonesia country. The 2 miles away toward west side, the visitors could also visit Amesbury, the small town that kept "the archer", an early bronze age man's skeleton date back to 2300 BC. Whereas, 8 miles to north side, the visitors will be greeted by Salisburians, the local resident of Salisbury City as well as grasped the Anglican Cathedral design, which believed as the leading example of an early English architecture.
This UNESCO World Heritage site's precise coordinates can be found at 10′43.84″N 1°49′34.28″W. Additionally, benefitted from information, communication and technology (ICT) globalization, STONEHENGE absolute location is accurately and beautifully displayed in the options of 3D and 2D presentation by Google Earth services as shown at Pic. 1.
Figure 1 STONEHENGE Site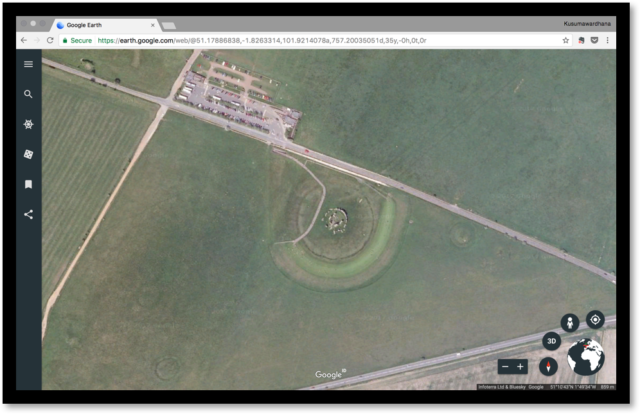 Moreover, while white Saxon-Britain ethnic race dominate the site for more than 95% of the total population (680, 137 people), there are small number of other race who lived among the origin ethnicity such as Asian, Black, Mixed Race, and other. However, in contrast to England as a whole who averagely occupied by 4.1 people. STONEHENGE site's area population has a low population density that can be translated by 1.4 human being living at per hectare. Additional point for visitor to visit STONEHENGE site comes from an infrastructure. Visitor doesn't need to worry about their visitation's experience as the Wiltshire's economy orientation have shifted from agriculture and industry area to focus on the services sectors, which also boost their attractiveness for its countryside values and villages as well as food and beverage commodities.
At this stage, the description of absolute geographic location might support the existing values of the sites and open visitor's view towards wider thinking that might prolong an exploration of the surround area.