Day out to 1000 islands: The Global Week Service
Thousand Islands are still some primary destinations for tourists who want to enjoy the beauty of an island and beach, especially for those who reside around Jakarta, the capital city of Indonesia. Besides the location that close to Jakarta city, the cost of visiting the Thousand Islands is affordable for both local and international tourism market.
The Thousand Island is in the form of small islands, this makes the Thousand Island have lots of attractive spots where a distance between these islands is quite close. It doesn't take a long time to visit from one island to another.
There are many tourism attractions in the Thousand Island destination such as swimming, snorkeling, playing water, enjoying the beauty of nature, watching the sunset, seeing birds, barbecues, and others activity related to tourism-water sports.
On Wednesday, July 25, 2018, BINUS University and Double Tree by Hilton Jakarta held an agenda to visit the Thousand Island with the theme of Global Week of Service that aimed for planting mangroves, releasing turtles into the sea, and cleaning the coastline from unwanted item i.e. rubbish.
Picture of Speed Boat as Transportation to Thousand Islands Destination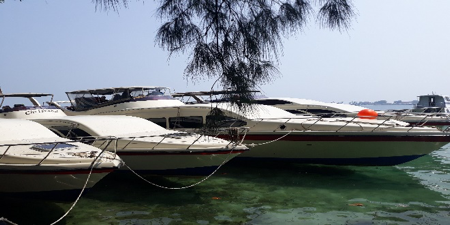 The first agenda is to visit Pramuka Island to plant mangroves and release a sea turtle into a wild sea. The group of BINUS University and Double Tree by Hilton Jakarta as well as visitors can reach Pramuka Island with a speedboat from Marina Ancol Pier. A speedboat's travel time last for only an hour to arrive the Pramuka Island. Thus, upon arriving in the island, the atmosphere on the Pramuka Island doesn't feel like as part of an island in the sea that usualy hot and dry. But, it is like the ordinary outskirts of Jakarta city. Facilities are established such as houses have modern shape and a transportation i.e. motorcycle and bicycle. The sanitary facilities such as toilets for tourists are in good condition and well maintained.
Picture of Sanitation Facilities in the Pramuka Island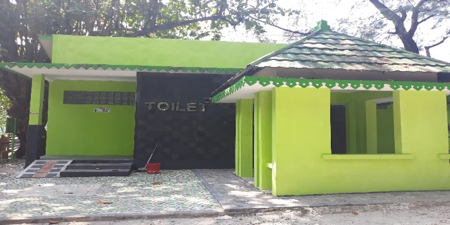 The second agenda is visiting Air Island. It takes about half an hour from Pramuka Island to Air Island by the speedboat. The activity's plan is to clean coastline from rubbish. The scenery is very nice, small and beautiful as our first impression of this Air Island. But, the island is uninhabited as this island is a private land. Although, facilities on Air Island are good enough. But, it is not well maintained such as uninhabited villas, empty stalls, and poorly maintained toilets.
Picture of an Empty Villa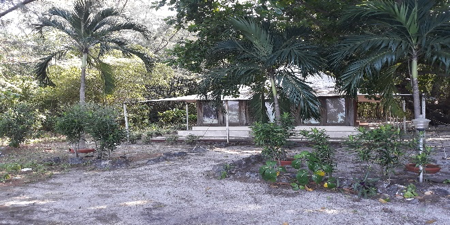 Overall, the day out to the Thousand Island destination is well managed and exciting. The experience adds the knowledge about the Ecotourism activities for tourist while knowing the life of sea turtle in close. Indeed, it is an educative day out.
Article is written by Cahyo Agung Prastyo (Student of Tourism Destination/ Binusian 2101649983).
Edited by IK