INTERNATIONAL TOURISM JAMBOREE 2017
Warm greeting from STP NHI Bandung
We have the pleasure to invite you to The International Tourism Jamboree 2017, so you will have the opportunity to gain new experience by doing lot of fun activities such as trekking around the village, camping and campfire, team building, and there will be a Guest Lecture discussing the topic "Digital Tourism, Home Stay, and Connectivity", then we will end up with The Declaration between The Institute of Tourism Education in Indonesia and ASEAN. The International Tourism Jamboree 2017 will be held on September 29th until October 1st, 2017, and will take place at Masigit Kareumbi Hunting Park.
Get ready to be the next generation of Wonderful Tourism Leaders!!
Get yourself registered now, by simply click this link below : https://goo.gl/forms/tvPPLXGDDpPZvm5F2
For further information, contact us through:
Phone: (022) 2011456
email: int.tourismjamboree@stp-bandung.ac.id
YES!
BINUS Tourism Department have the great opportunity to participate to the 1st INTERNATIONAL TOURISM JAMBOREE 2017 that hosted by Sekolah Tinggi Pariwisata (STP) NHI Bandung. Despite this is an international event, STP NHI Bandung held the event in oreder to celebrate the World Tourism Day that falls on September 27, 2018.
Promote the theme of "Wonderful Tourism Leaders", all of nearly 200 students from 33 Indonesian tourism institutions and two overseas universities — the Cavite State University from the Philippines and University Utara Malaysia — were introduced to the three main issues of sustainability tourism such as tourism as a tool of development, the spirit of "Wonderful Tourism", digitalization and connectivity. In addition to build a tourism-interest network and promote Indonesia's tourism destination, these event were also hoping to generate a character for a future tourism leader that understand dynamic changes within tourism-related industry, socio-culture, and environment.
Alongside the experience for trekking through forests and villages including joining the running races as well as leadership games, the three BINUSIAN 2001 from Tourism Department, namely Nabila Fidy Thyssen, Naomi Lafirsta, and Faris Putra Poempida had the opportunity to get valuable insights through talk show from Indonesian tourism leaders like Hiramsyah S. Thaib (Mr), the tourism ministry's head of development acceleration for priority tourist destinations, and Ricky Zulfandi (Mr), the Airy Rooms Hotel operational director and executive director at The International Institute of Tourism Studies of The George Washington University, Seleni Matus.
Picture of BINUSIAN 2001 from Tourism Department (left to right: Faris, Naomi & Nabila)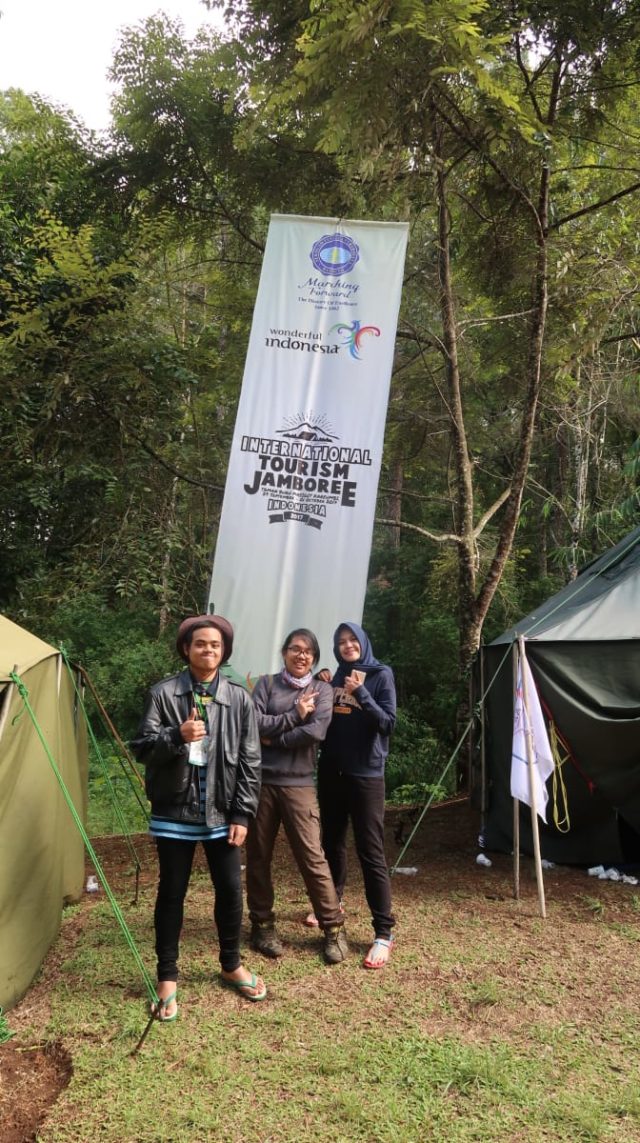 Truly, their participation in the 1st INTERNATIONAL TOURISM JAMBOREE 2017 were valuable for them in enhancing their knowledge. In real, Nabila said "joining the event has made me to understand the concept of life and strengthen my character to look for my future. Now, I realize that my thoughtful and actions could affect the surrounded, particularly within tourism contexts. I am aware about tourism information in digitalization era (the process of converting information into a digital) and promoting a sustainability tourism through homestay and community engagement by having lunch with local resident in the village at the destination".
The media and video coverages:
International Tourism Jamboree 2017 https://www.youtube.com/watch?v=kBo6pD0I3B0
STP NHI Bandung Gelar "International Tourism Jamboree 2017 "https://www.youtube.com/watch?v=3tjHqJ82RQM&feature=youtu.be
STP NHI Bandung Gelar Internasional Tourism Jamboree 2017 https://www.liputan6.com/lifestyle/read/3107934/stp-nhi-bandung-gelar-internasional-tourism-jamboree-2017
STP NHI Bandung to host International Tourism Jamboree event http://www.thejakartapost.com/travel/2017/09/26/stp-nhi-bandung-to-host-international-tourism-jamboree-event.html
STP NHI Bandung Gelar Internasional Tourism Jamboree 2017 https://www.jpnn.com/news/stp-nhi-bandung-gelar-internasional-tourism-jamboree-2017
International Tourism Jamboree to Be Held in West Java https://jakartaglobe.id/tourism-news/international-tourism-jamboree-held-west-java/
STP NHI Bandung Gelar International Tourism Jamboree https://bisnisjakarta.co.id/2017/09/24/stp-nhi-bandung-gelar-international-tourism-jamboree/