Mixture of Beauty and Myth of Madakaripura Waterfalls
Mixture of Beauty and Myth of Madakaripura Waterfalls
Today, attractions face new challenges as a result of contexts marked by globalization, mobility of people and goods and competition to attract tourists and investors.
Current trends, the symbolic importance and the need for visibility are reasons to invest in distinguishing aspects that affect their attractiveness as a tourist destination (Harvey, 2001 cit. In Richards & Wilson, 2004; Deffner & Labrianidis, 2005; Ritzer & Liska, 1997).
Culture is considered a major source of differentiation and innovation with implications for the definition of cities as tourist destinations (Zukin, 2004).
A tourist destination, currently, is being prepared as a stage to attract tourists and, at the same time, to influence the consumption experience in visiting a place, be it a city, country or region. Tourists want innovative and memorable experiences during their holidays (Oh & Fiore, 2007). This article underlines the role and importance of myths in the process of preparing interesting places to welcome and welcome tourists who offer an unforgettable experience for them.
Madakaripura Waterfalls
Who does not know Mount Bromo. The beauty of the rising sun that will make everyone stunned. Its beauty is already known and recognized by tourists. This is evidenced by the large number of tourists who come and enjoy this region.
Before enjoying Mount Bromo. It is better if you visit a waterfall that full of mystery and challenges to be able to get there. However, the challenge will pay off when you get into this area. Located in the village of Sapih, Lombang district, East Java, Indonesia.  It will take 46 minutes or 20 km from mount Bromo to this waterfall.
Madakaripura Waterfall has a height of approximately 1,000 meters above sea level. with this height, making the atmosphere around the waterfall so cool and shady. Anyone will be hypnotized with a different feel from other waterfalls.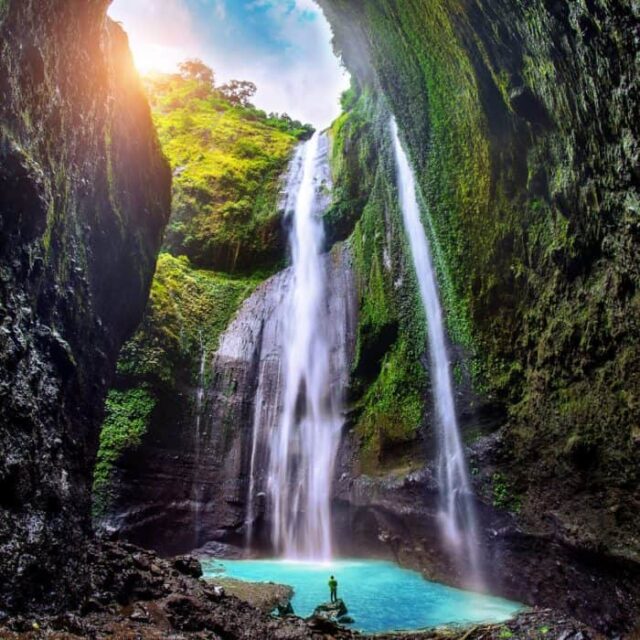 The name of Madakaripura is derived from 3 names namely Mada taken from the name of military Commander-in-Chief, GajahMada, the great Javanese kingdom of Majapahit in East Java. Kari has a meaning of relic. While Pura has the meaning of prayer or meditation place. So, Madakaripura has the meaning of the place where Gajahmada died when praying.
According to residents, Mahapatih Gajahmada went to this place when he was removed as mahapatih (general). The dismissal of the position is because, Gajahmada has slaughtered hundreds of people who are in the Sundanese kingdom, Galuh. The story of the Mahapatih Gajah Mada is reinforced by the presence of Gajahmada statues in the area.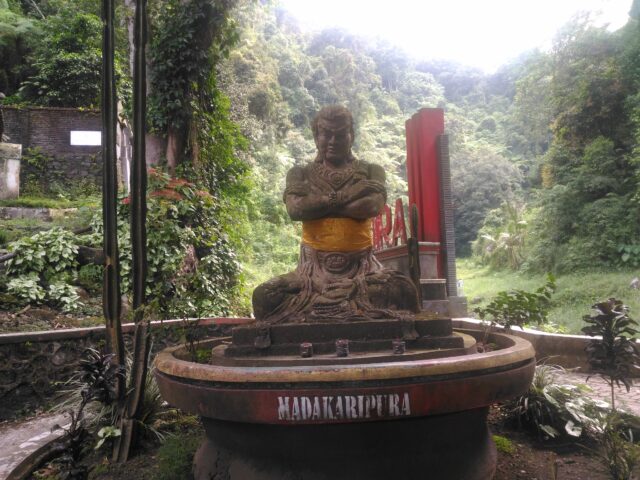 Visiting here must be a little careful, if tourists have bad intentions, then, bad intentions will bring disaster to tourists. Conversely, if tourists have good intentions, then tourists will get the kindness of a clean heart.
The next myth, tourists must go home before 2 pm. Residents around believe that if tourists go home more than 2 pm, then the rain will occur suddenly. This rain makes the water discharge rises, thus, endangering tourists if they are still in this area.
One more myth that exists in this region is that this waterfall can make young if used for bathing for those who believe. Whether true or not, this is a myth. The beauty of the waterfalls and the myths have built a strong character of this tourist attraction.