HOW DID THE "ISOLATED" VILLAGE OF WAE REBO TURN INTO A TOURISM SITE?
Wae Rebo was a remote village until it became a tourist destination as it is today. How did it turn from an "isolated" village into a tourism site? Here's a brief story
I always had been intrigued to see with my own eyes the traditional village of Wae Rebo in the island of Flores, East Nusa Tenggara Province, Indonesia. It was only in early November 2021 when I finally had a chance of visiting the village on a field trip with my colleagues and Tourism students. After about 5 hours of drive through a dizzy-making, winding road from Labuan Bajo, a tourist hub on the western coast of the island, we arrived in Kombo, where we began our 5-km trek to the village.
We eventually arrived in the village just before the sun set. That familiar, legendary view of Wae Rebo I only saw so far in books or on the internet were just right in front of my eyes! And it's just as stunning as it looks on photos.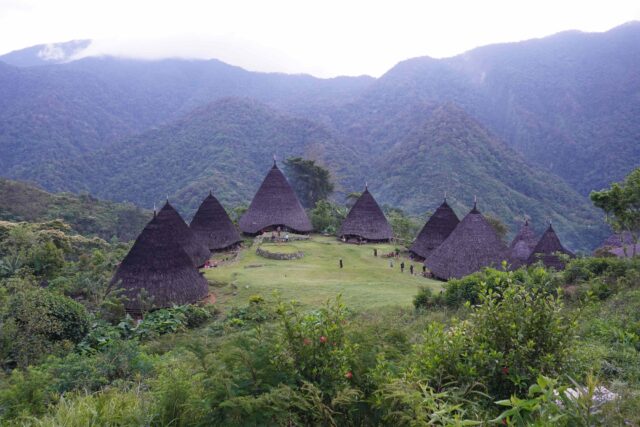 View of Wae Rebo Village (photo: T.A. Patria, 2021)
Seven conical houses (known as mbaru niang) sit in a semi-circular line on a plateau, surrounded by lush hills and mountains. It was quite bright that late afternoon even though mists oftentimes cover the village and the surrounding mountains, making them look dramatic. The village is situated 1,100 m above sea level, enjoying a relatively cool climate throughout the year. Visitors are drawn here not only because of its extraordinary views, but also to experience the local cultural heritage. Visitors can experience staying inside the mbaru niang for guests, interacting with locals, and learning how locals live their daily life. At certain times, visitors can observe local ceremonies, such as one of honoring local's ancestors' spirits and the Almighty, and dance performances.
The history of Wae Rebo community is quite interesting. According to one of the elders, their ancestors came from western Sumatra in the 10th century. Today, there are 1200 community members who live in Wae Rebo (Hucal, 2018), and they are believed to be the 18th generation since their forefathers first arrived and settled in the region.
Wae Rebo did not instantly turn into a tourism village. According to one source, the first recorded visit by outsiders to Wae Rebo was from 1984. During that time, the local community depended on agriculture, such as rice, corns, yams, and coffee beans. However, due to the unpredictable climate, the produce kept decreasing in volume. That made local community think about finding an alternative way to sustain their livelihood. In early 2000s, a concerned local community member contacted a Jakarta-based non-profit organization focusing on ecotourism, Indecon, to address the issue.
So, here's when the turning point occurred. In 2007, Indecon launched a project to help rebuild local economy. It recognized the uniqueness of the traditional living, which should be conserved but also can be utilized to attract visitors. One early step was conducted by renovating mbaru niang in 2008. This project was a collaboration between Yayasan Rumah Asuh, a Jakarta-based foundation led by an architect-cum-photographer, Yori Antar, and local community. As a result, in 2012 Wae Rebo received an Award of Excellence from UNESCO for its renovated mbaru niang. Until 2016, Indecon organized continuous capacity building programs for the locals, including trainings on cooking, guiding, and hospitality. After going through some tourism development, the number of visitors to Wae Rebo rose tenfold from 393 in 2011 to 3,446 in 2015, and kept increasing to 7,000 in 2018.
Wae Rebo is an example of a village that applies both ecotourism and community-based tourism. Ecotourism allows communities to generate income without relying on natural resource extraction, which can harm the environment if overdone (Hucal, 2018). Through community-based tourism, local community actively participate in local tourism activities, such as by providing accommodation and food and beverages for visitors. In Wae Rebo, gaining new incomes from tourism doesn't mean that local community abandoned their agricultural produce. Instead, tourism has strengthened local economy. Local community has been able to gain additional income from tourism aside from agriculture. Some of the incomes was used for heritage conservation – for preserving their mbaru niang. What's more, it can also provide funds for locals, from funding local children's education through university to maintaining a pension for the elders.
In brief, the tourism development in Wae Rebo began with local community's aspiration to improve their livelihood. With the help from an NGO, community-based ecotourism was developed to help strengthen local community's economy. It is important to note that to build a self-sustained, knowledgeable, skillful, and experienced community, a community needs to be equipped with relevant knowledge, skills, and experiences. I believe that's the first requirement of a tourism community empowerment.
I am happy that the people of Wae Rebo have been able to sustain their economy and to conserve their cultural heritage through tourism. But deep down I asked myself, how long will all this last? How long will local heritage conservation and economy and tourism go hand in hand? When the local community interacts with visitors, impacts will be inevitable. As an analogy, when you've got a sheet of clean, crisp paper and you let people hold it, sooner or later it eventually will turn into something else – not the clean, crisp paper as it was in the beginning anymore. But I think the idea is, as long as people know what choices they have, and the consequences of every choice, the decision will be up to them.
Further reading: Hucal, S. (2018). An indigenous village navigates its ecotourism success. In Mongabay: News & Inspiration from Nature's Frontline. Retrieved November 18, 2021 from https://news.mongabay.com/2018/08/an-indigenous-village-navigates-its-ecotourism-success/